We work with several e-commerce start-ups and thus have some learning on what we think e-commerce entrepreneurs need to get right from day one. Here are three business basics which will pay back handsomely.
1. Have an innovative product
Your product or service must not be a me-too. Unless you have a brand which is established i.e. already doing well offline – that you want to take online – the product idea must be reasonably distinctive. The competition online can get murderous. If not the product itself, you need to differentiate in some other part of the offering.
Niche and novel products do well online. Due to various reasons, the Internet is good at matching such products with the right customers. Conversely, me-too products take time to carve out a market.
There are some other aspects of product strategy that are important, we will save these tips up for another blog post. Having an innovative product is the most desirable aspect of the product strategy.
2. Build the best website you can
Don't compromise on the website. You can save a bit on marketing or other expenses but don't go for, say, a website that an inexperienced web developer friend offers to put up at cost. Go for the best site that money can bring.
By a good e-commerce website, we don't mean a super duper customized platform which needs a strong tech team and costs a bomb. We mean a website that allows you to test 'proof of concept'. In most cases, this means a website which will be adequate for the first 12 to 18 months (see related point below). What's a good e-commerce website? Too big a subject for this post. A user-friendly UI & navigation, good mobile speed and responsiveness and a feature-rich back-end are three important aspects of a good e-commerce site.
Unfortunately, 6 of 10 e-commerce websites that we encounter score a C grade or worse (grade scale A to E).
3. Have a business horizon of minimum 12 months
Have a business horizon of the above minimum duration. This is the time required to establish the business model, prove the concept and get it ready to scale to the next level.
We are often asked why 3 to 4 months or so should not be enough, in cases where the client is even willing to spend handsomely on marketing at the outset?
Due to various reasons, this does not usually happen in 3-4 months.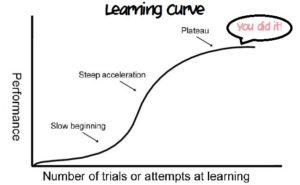 Firstly, most organizations starting up an e-commerce business are new to it, and they have a learning curve. Another reason has to do with customer acquisition, in particular as to what type of traffic can convert to customers. A lot of testing and experimentation is needed here, which takes time. No one formula works for each business, each customer acquisition case is somewhat unique.
Thus, new e-commerce businesses need to get many aspects of the business right, before growth happens. And this does not usually happen in a few weeks.
The above are three bits of advice that we hope you will find to be useful.
P.S.: To know more about our own e-commerce services, visit our website.